Shift Happens. Mercury is Going Retrograde. Again.
I'm not here to tell you that the Celestial Shit is about to hit the fan, because I don't believe that.
I want to help you Shift your Energy, Eliminate Fear around this Planetary Movement, and Create from an Authentic Space of Flow.
What is Mercury Retrograde?
Mercury Retrograde is a three week period in which the planet Mercury to appears to be in backwards motion as it moves through the Zodiac. The cool thing here is that all the planets are moving, all of the time. Since Mercury is essentially our sister planet… we can visually see what's going on.
This "backwards motion" of Mercury happens three to four times a year, and can be utilized to really focus in, gain clarity, and shift intentions in a way that feels the most aligned for you. As a Gemini Sun, Mercury is my ruling planet, and I really find this time to be quite healing when I allow it.
Allowing is the key really. When was the last time you allowed yourself space to venture into the cavern of your subconscious and mine out the golden wisdom within? Mercury Retrograde is the perfect time for Sacred Creation and discovering what really is most in alignment (or not) with your energy.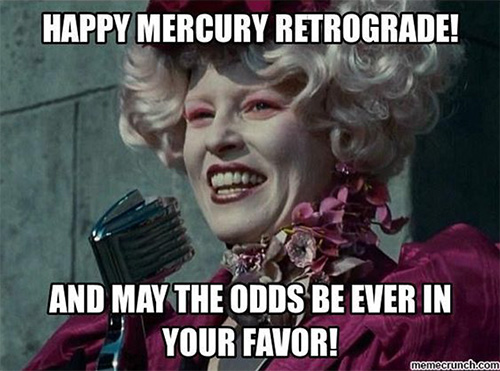 When does Mercury go Retrograde?
The next few cycles of Mercury in Retrograde are:
September 9—October 1 (2022)

December 29—January 17 (2023)

April 21 – May 14 (2023)

August 23 – September 15 (2023)

December 13 – January 1 (2024)

April 1- April 25 (2024)

August 4 – August 28 (2024)

November 25 – December 15 (2024)

March 14 – April 7 (2025)

July 17 – August 11 (2025)

November 9 – November 29 (2025)
So what's with all the Hype?
1. Embody an Empowered Energy and Perspective on Mercury Retrograde
Well first, I'd like to ask you, what story are you embodying? When we hear "Mercury Retrograde" it's become a social norm to giggle & romanticize being a victim of energetic tumult rather than rejoice in sacred creation and renewal.
How often have you heard people blame bad luck, miscommunication, and chaos on Mercury Retrograde? Take a look at the hilarious memes in this blog post, and you will see what I mean.
But WHY? Why blame it all on a Sexy Space Rock when we have Divine Autonomy over our decisions, over ourselves, over our experiences, and the way we show up in the world?
It's easier.
It's easier to default to the energy of blame.
It's easier to allow this hodgepodge of Creative Celestial Energy to become our scapegoat. Choosing to alchemize this energy into a Sacred Container for Creation… that is where the work is.
So tell me, are you living in a victim mindset about this planetary movement?
It's time to take a stand, and deeply evaluate your perception vs your reality. Regardless of what that looks like for you (positive or negative) keep in mind that like attracts like. You are the creator of your lived experiences… so what do you want to experience?
In addition to your current lived out stories and experiences, what energy are you living in? Are you creating a more positive and abundant energy? It is an energy of worry and fear? What can you shift to live in a space of energetic love?
2. Reflect & Reassess your Relationship with Mercury Retrograde
Grab your mirror, Starling. This is the time to be really honest with yourself in order to reflect and reassess what in your life is working and what isn't. Journal it out and excavate your energy. If you need to move your body while you reflect, ponder these journal questions as you do:
Journal Prompts
What current beliefs do I hold about Mercury going retrograde?

Are these beliefs true for me or is it possible that I've adopted these beliefs from somewhere else? Where did they come from?

Are these beliefs serving me in a positive way or a negative way? How so?

What could Mercury Retrograde look like for me if I shifted my beliefs into that of a period of rest and sacred creation?

What systems are working well for me right now?

What kind of rest would feel really wonderful for me during this Mercury Retrograde?

What would I love to create and bring to life once Mercury goes direct?

Is my communication with others happening in a way that feels good for me, and also clearly shares my intentions/feelings? How can I create more energy around clear communication?

Does my throat chakra feel open, closed, or imbalanced?

What kind of actions can I take or not take to support balancing my throat chakra?

What kind of actions can I take or not take to support balancing my elemental Air energy?

What else needs to be reassessed, reflected on, and reignited?
If you would rather journal these out digitally or on paper, Download my Free Celestial Magic Journal - which has these Mercury Retrograde Prompts and also has prompts for the New Moon & Full Moon.
3. Create Clarity in Communication during Mercury Retrograde
This is an important shift to employ, as Mercury is the energetic ruler of Communication. Naturally, this is where the societal beliefs and victim meme-ing come into play most. I have found personally, that the way I can ensure I am communicating clearly with others is to create more space and pause. Sometimes all you need is to close your eyes, take a deep breath, and double check that you are communicating your needs, wants, desires, and words clearly.
Create More Breath, Space, and Pause Before:
Sending out an email or text message
Responding to someone in person
Saying Yes to something before you have had time to assess whether the thing in question is even in alignment with you
Taking things personally and lashing out. Not everyone knows how to utilize Celestial energy like you, and they may be having a difficult experience
I also wanted to address that yes, very real and very unfortunate things happen during Mercury Retrograde… but those experiences shouldn't define our reality. Technology seems to be the biggest Hollywood Starlet that likes to fall out of the Mercury Retrograde limousine. Yes there can be tech mishaps.This does not have to be you.
There can also be beautiful new pathways and solutions born out of our own misfortunes. Don't come for me. Radical Acceptance is Hot.
Keep things Ridiculously Simple when it comes to Communicating in the digi-verse and the Real World.
4. Rest in the Support that is the Sacred Container of Mercury Retrograde
Don't act just yet… marinate. This is a time to recharge, retreat and allow whatever feelings come up during this retrograde season, to FLOW. Don't fight and resist, just allow it with grace. (Even if it doesn't LOOK so graceful). Remember that Nature Flows in CYCLES.
Just like the cycles of the moon, and seasons in the wheel of the year give us space to rest and unwind, Mercury retrograde does the same. Each year we experience three (sometimes four) Mercury Retrograde periods. This is a regular period of rest in your cycle of the year. Honor it. Trust it. Allow it.
I have found that Creativity shows up in abundance when I allow myself the time and space to truly rest. Some of my most creative ideas have come to me while I'm relaxing in the bathtub, sitting in my hammock swing outside, or during a gentle walk in the woods. Since I trust that Creativity will always come in abundance when Mercury goes Retrograde, that is my lived experience.
When I say, "don't act just yet… marinate" what I am really saying is to allow the process to unfold, allow the next steps to be revealed to you as they come, and allow yourself to be blissfully supported by this sacred planetary container.
This is the breath, space, and pause coming into play in your life. Consider looking at this time as a fun experiment you get to have with yourself and the cosmos. How can you thrive during Mercury Retrograde? Let it be FUN and Let it be EASY.
5. Reignite the Flames of your Desires during Mercury Retrograde
Get the matches ready!
No, don't burn it all down. That's not in alignment... trust me.
This is the time to plan inspired action and DECIDE what you want life to look like. Get excited, fuel your fire and run with whatever FEELS GOOD. This is the time to change the systems in your life that you are not happy with. Stop limiting yourself and be accountable for your own life. You are ready.
Save your larger projects and launches for when Mercury stations direct (goes back to normal, hah!) at the end of this Retrograde. The reason this rest is critical, is because the creativity that is bound to flow through you needs to go somewhere.
As the current Mercury Retrograde cycle comes to a close, it is a great time to dive into your planner! Maybe you are already creating and you want to plan the day to share your creation. Whatever space feels intuitive to you, flow there. This is your journey, and you are in the driver's seat… so let's go for a ride and let it be FUN.
What are you Most Excited to experience during this Mercury Retrograde cycle? Let me know in the comments!
Go Change the World,
Dalea

Come with me to a colorful realm filled to the brim with magick, whimsy, and wonder… Amberlight Valley.
Exclusive Content, Contests, and Giveaways
Sneak peeks of what's coming next and Opportunities to participate
Chat with other readers about The Christmas Witch (Book and Film), Hashtag Blessed the Movie, Lost in Time, and other projects
Film Screening Opportunities
First to know about new items in the Amberlight Valley Merch store (the store is currently being updated)
Private Community

(not on Facebook)

to connect with other Readers/Viewers.
Behind the Scenes Content & opportunities to BE in the films
Access to Personal Development and LIVE Coaching from Dalea
Access to The Sanctuary at Amberlight Valley (resource hub for all things woo and spiritual)
Meet Me in Amberlight!
STAY CONNECTED WITH NEWS AND UPDATES
Join my mailing list to receive the latest news and updates from me! I don't blast your inbox daily and I only share what is absolutely necessary!
Don't worry, your information will not be shared.
I hate SPAM. I will never sell your information, for any reason.