Your flow might not feel as sweet as honey, but these essentials give total Queen Bee Vibes and pave the way to a Happier Period!
It's that time of the month again, and you recognize that you no longer want to dread this time. You want to honor your body and its sacred cycle, and period of rest.
Without getting into too much detail, I had a history of horrible periods and over 20 years of searching for the solution and magic key to my hormones. I don't necessarily have the magic key, but I have definitely found some helpful and supportive tools along the way that have made my life (and my period) astronomically better.
*This page contains affiliate links that at no additional cost to you, I may earn a small commission.
I was super hesitant to try seed cycling at first. It wasn't the seeds that had me second guessing at all… it was the prep work. For someone that has ADHD-like tendencies, it seemed like way too much work to try and see if it was going to help. I know myself and I know that this would not be a practice I would be willing to have with the additional work. It needed to be easy.
Enter Funk It Wellness, the solution to my seed cycling dilemma and your cycle's new best friend! There are so many reasons I love Funk It Wellness, so let's lay it down.
Women Owned Business. I love supporting my soul sisters, so this is a huge plus for me! It is also lovely to be in communication with the women actually running the company. They are kind, honest, and down to earth.
They Make Seed Cycling Easy. You get two bags full of seed blends, one for the first half of your cycle (Nurture) and one for the second half of your cycle (Radiate). The only guess work involved is deciding what you want to put your seeds on! My favorite is adding my seeds to Keto Yogurt either in the morning for breakfast or as an ice cream alternative before bed.
Advocating Period Health. If you look on their Instagram Profile, you can find so many supportive reels, posts, and stories that support healthy hormones and happy periods. This is a great resource, and they aren't afraid to be sassy and funny with their content!
For those that are no longer menstruating that are looking to support their hormonal cycle with seeds, there is also a seed blend option for you. You can find it here!
When I first saw this shiny hoodie, I wasn't quite sure what to think. I'm a pipsqueak, so I figured it would definitely be much larger on me than the models… but the material had me dying to try it. I am a total Kitsch die-hard-fan-turned-ambassador for a good reason, their products are the softest satin ever.
The Glazey Hoodie is no exception, it is amazing! Why do I have this on my essentials list? Comfort. If you want to hibernate in your sweatpants, be cozy, and curl up into a ball wherever you are, the Glazey is the answer. It is like wearing the most comfortable blanket, while it is giving you a hug.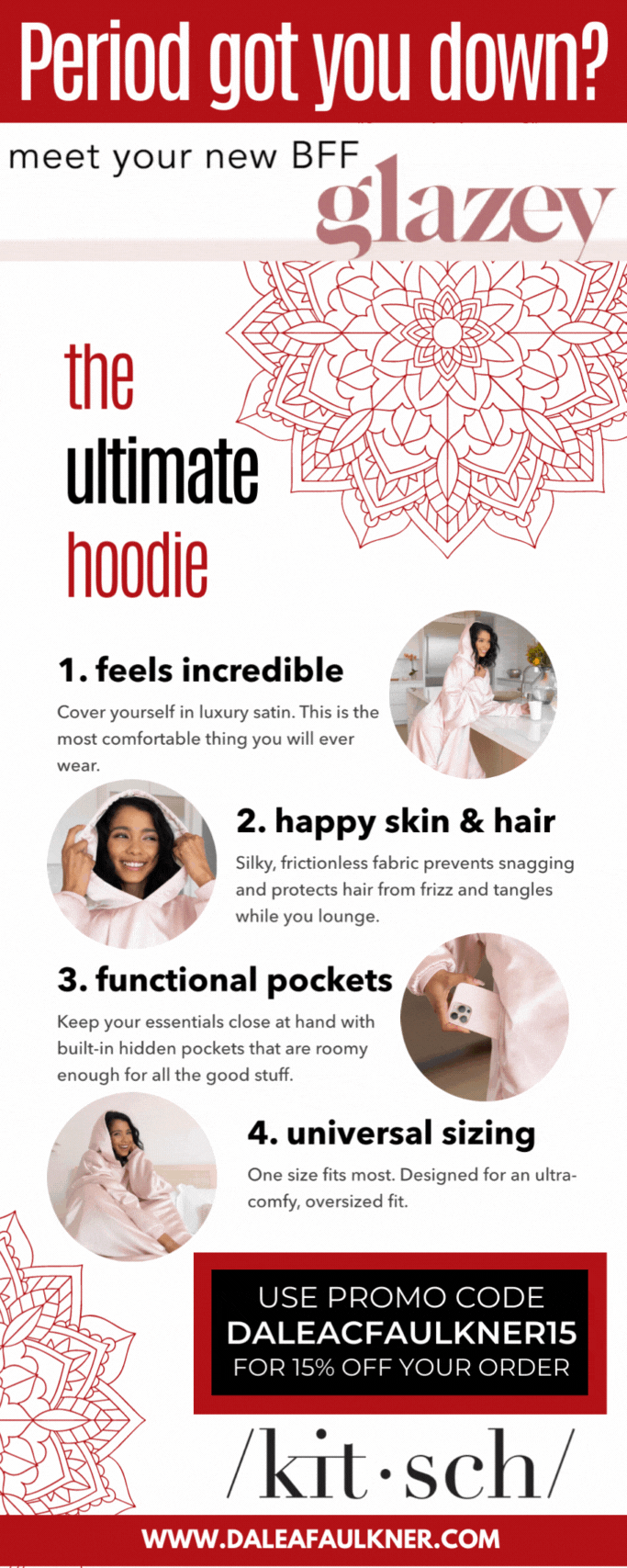 It may not have been designed to help you feel happier on your period, but my own research came back and the results say: Yes. You feel. happier in the Glazey on your Period.
I have been using this app as my period tracker for 49 cycles, and in that time it has gotten so much better. There are so many reasons to love this app, but the biggest reason to download it is simple.
Knowing your Flow means Knowing your Body.
When you know where you are at in your cycle, and the kind of mental, physical, and hormonal space you are in at the time… you become an Empowered AF Queen Bee.
It is like a superpower, because as you begin to align and work with your body's cycle and energy, you learn more about yourself and your external responses to your internal world.
If nothing else, learning how to take care of yourself through out the duration of your cycle is the cherry on top of this App.
This Botanical Sparkling Water makes you feel like you are in a different energetic field, which is absolutely essential if your Period isn't bringing smiles and rainbows. Petal's beverages come in so many delicious flavors, that you will be hard pressed to choose a favorite.
Personally, during my own flow Lychee Rose and Original Rose are my go-to's. There is just something so supportive about Rose that makes these few days a little less crazy.
I love Petal at all hours of the day. They are refreshing or calming depending on your choice of flavor. I honestly feel like a total goddess when I drink Petal, whether it is still in its beautifully designed can, or in a fancy glass. Petal turns the dial to High Vibe, and is one of my absolute essentials!
Honoring your Menstrual Cycle Ritual
Honor your body, and the absolute Goddess you Are.
It's that time of the month again, and you recognize that you no longer want to dread this time. You want to honor your body and its sacred cycle, and period of rest. This ritual is simple and can help you do exactly that.
What tools will you Need?
You can get as elaborate or stay as simple as you'd like with tools. I've listed some of my favorite suggestions but you can choose to include as many as you want!
Red Nail Polish

Loose herbs in a sachet for Bathtub Tea

Red Crystals like Jasper, Carnelian, and Garnet

Candle

Journal

Music
Personal Energy
This is a wonderful time to spend in reflection on what worked and what didn't work for you. Evaluating where you were before and how things went, can help set you up for success in this next cycle. This phase is all about listening to your inner knowing and tapping into your intuitive energy.
I highly recommend making a Bathtub tea, by adding some dried lavender, dried rose petals, and epsom salt to add to a sachet and put in your bath water. The goal here is to relax and honor your body by being gentle with it and seeing that you require a bit of extra support. You can add crystals to your bath water (provided that they are water safe) to amplify the energy you are creating. You can also sip on a cup of tea, light a candle, and listen to your favorite music as you soak!
Journey Within
Take time to reflect in meditation, journaling, or deep breathing, and make space for your new intentions. Regardless of the current phase of the moon, you are energetically and physically in a New Moon phase in your body.
I recommend lighting a candle before sitting down to journal and meditate. You can also use any red candle you have on hand if you're in a pinch. Light your candle, journal out your answers, and reflect in meditation either by gazing into the flame or with your eyes closed.
Which feelings do I want to feel during my next cycle?

What actions can I take (or not take) to help create and cultivate more of these feelings?

What currently feels out of alignment for me, that I want to bless and release?

What feels true for me, right now, in this moment?

How do I want my body to feel during this next cycle?

What actions can I take (or not take) to help create and cultivate more of these feelings in my physical body?

What would feel really fulfilling for me to do during this moon cycle? (Goals, ideas, projects, etc.)

What actions can I take (or not take) to help support this fulfillment coming to fruition?

Affirmations & Nail Polish
Painting your Toenails and Fingernails can be a beautiful experience of intention if you see it as so. Choose a few of your favorite affirmations to repeat as you apply red nail polish to each of your nails, allowing yourself to soak up the energy and align yourself as such.
I tap into my flow and divine feminine easily.

I use my empathic gifts and nurturing nature to uplift and guide those who need my light.

I release my need to take on others emotions as my own and I have clear energetic boundaries that allow me to choose to tap into the energies and emotions of those around me.

My psychic abilities are refined and more tuned in every single day.

My flowing nature allows me to effortlessly move through changes.

While my nature is very nurturing, I find the balance in tending to my own waters.

It is safe for me to allow myself to grow.
Sending you so much love, so that you can love yourself and love your flow. I hope this was a supportive read for you and you found value in it.
Here's to a Happier Period and a Healthier You!
Dalea
P.S. I am also going to be trying out some other supportive products for Periods… should I create a part two? Let me know in the comments!

Come with me to a colorful realm filled to the brim with magick, whimsy, and wonder… Amberlight Valley.
Exclusive Content, Contests, and Giveaways
Sneak peeks of what's coming next and Opportunities to participate
Chat with other readers about The Christmas Witch (Book and Film), Hashtag Blessed the Movie, Lost in Time, and other projects
Film Screening Opportunities
First to know about new items in the Amberlight Valley Merch store (the store is currently being updated)
Private Community

(not on Facebook)

to connect with other Readers/Viewers.
Behind the Scenes Content & opportunities to BE in the films
Access to Personal Development and LIVE Coaching from Dalea
Access to The Sanctuary at Amberlight Valley (resource hub for all things woo and spiritual)
Meet Me in Amberlight!
STAY CONNECTED WITH NEWS AND UPDATES
Join my mailing list to receive the latest news and updates from me! I don't blast your inbox daily and I only share what is absolutely necessary!
Don't worry, your information will not be shared.
I hate SPAM. I will never sell your information, for any reason.